I was in 6th grade when I first heard about this show all of my girlfriends were watching after school – Days Of Our Lives.
This was – according to a handful of 12-year-old girls – a very serious and very "adult type of show" that they were all racing home to watch. I had no clue what it was, but being the "chubby, funny and addicted-to-joining-any-and-all-clubs" kid that I was, I thought this might help in keeping up with the cool girls at lunch.
So I too decided that day to race home to watch it. I lived about a block from school, so needless to say I had about 30 minutes to kill, as I made myself comfortable for what was to be my very first soap opera viewing. Or so I thought.
The minute to opening credits started I realized I had watched this show many times in kindergarten with my great grandma. Not by choice, of course. She used to babysit me after school and the only way I would get her attention between 2 and 4 was to sit and watch "her shows" with her. This normally involved her yelling at them while I watched, completely in awe of her feistiness at age 85. So here I was 7 years later with my great grandma somewhere up there – no doubt beaming with pride that I had come to my senses and decided to keep our soap opera ritual alive. I was ready to fill my brain with things to gossip about tomorrow. Like sands through the hourglass, off we went!
To this day, my first memory was the introduction of a new character named Sami Brady. Along with her twin brother – none other than Jensen Ackles of Supernatural – they were ridiculously attractive twins whose dad was a cop while their mom was a doctor that was still in love with someone else and would later be possessed…pretty typical stuff. So maybe things could be a little far-fetched in this type of show, but I was on an important mission. I continued to watch and, sure enough, I was sitting pretty at the cool girls' table at lunch with a knowing smile and the necessary Days of Our Lives street cred to back it up.
Fast forward 20 years later. I was sitting at my own lunch table when I got a phone call letting me know I had booked a role on Murder, She Baked, a series of mystery movies for Hallmark Movies & Mysteries that were based on the Hannah Swensen mystery novels by Joanne Fluke. Having read the first book, I was curious who had been cast as the leading lady Hannah Swensen. I did my own detective work through the Google agency and there she was… Sami Brady, better-known as Alison Sweeney! Not only was she going to be my sister for the next couple of years on screen, but she was also one of the producers. Suddenly I felt like I was 12 again, giggling with mischievous excitement. How cool would it have been to be able to tell the cool girls at the school lunch table that one day, I would be working with Sami Brady?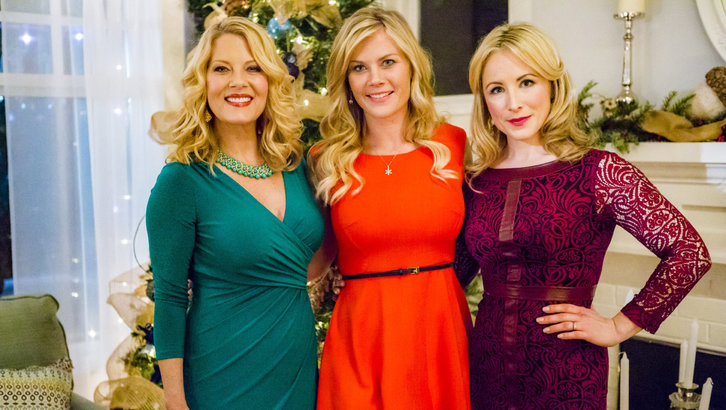 From the first day on set, Alison Sweeney was positively fierce. Fierce in the good way that only a true soap opera veteran can be. She has been in the entertainment industry since she was a toddler and it's clear that she still loves every minute of it. She has not only survived but thrived in a competitive business that changes as quickly as the sands run through the hourglass.
To this day she holds the record for acting in the most scripted pages filmed in 1 day: Over 90! That is insane. Most films aim to shoot 6-10. 12 -14 pages is considered a near impossibility. But spend 5 minutes with Alison Sweeney and you will see why she makes it look easy. She can memorize a scene in no time flat. She can improvise in a pinch so as not to kill a shot. She is always willing to talk it out with her scene partner to find the best possible way to play it.
To sum it up: Alison Sweeney loves to play!
One day at lunch, Alison Sweeney said to me, "I would rather someone come to a scene with a choice completely different than mine, so that we can hash it out together, instead of showing up having not made a choice at all. I hate when people agree because they are worried about disagreeing with me."
Naturally, I made sure to disagree with all of her choices that day – starting with her lunch order.
Murder She Baked: A Chocolate Chip Cookie Mystery – the first movie of the series – aired in May to record-breaking numbers for Hallmark Movies & Mysteries.
The second movie, Murder She Baked: A Plum Pudding Mystery aired to record numbers for Hallmark Movies & Mysteries in November. It came in second only to the first movie!
Both movies will re-air on Sunday, January 10th, 2016 on Hallmark Movies & Mysteries in the USA along with the premiere of a brand new one, Murder She Baked: A Peach Cobbler Mystery! I can't wait!
In Canada, CTV has recently begun airing the series as well. Check local listings!
In my mind, the success of the series is no doubt due to the hard work that Alison Sweeney has put into them. If I have learned anything from working with Alison Sweeney, it is that she is the real deal. She is professional, she stands behind her choices and she makes no apologies for who she is. I have to say that I respect and admire her drive. I look up to her as a female in this business and I am in awe of how she still manages to make her family her first priority.
With the good fortune of calling Alison Sweeney my friend today, I walk a little taller. Twenty years ago, she likely would have told me to ditch the cool crew and just be myself….but then again, I would have missed out on growing up with daytime's most loveable villain, Sami Brady. There's no one else I would want to solve Hallmark Movies & Mysteries with.