People in the film industry say, "Never work with kids or animals" but I would wholeheartedly disagree! I say bring 'em on!
Last year, I had the pleasure of working on Rufus, Nickelodeon's family comedy about a boy named Manny (Davis Cleveland) whose dog comes to life as a dude (Jace Norman). I spent several days on location with the young actors, as well as the canine doubles, and I have to say I was impressed.  Call it good parenting or just great luck, but Jace Norman, Haley Tju and Davis Cleveland were a treat to work with. On time, lines memorized and always ready to play, each performer brought their own choices to the table with conviction and lovable sass.
Director Savage Steve Holland is a pro when it comes to creating entertainment for kids and he runs his ship with the most playful energy.  From his witty one-liners to those brilliant physical comedy moments, he kept things moving without a hitch.
That was then and this is now.
Thanks to the overwhelming response from fans, Rufus 2 happened with three of my favorite teenage stars (Jace Norman, Davis Cleveland and Haley Tju returning and Jade Pettyjohn joining the team as Kat.
Working with Nickelodeon and Savage Steve Holland was so much fun the first time around so, naturally, when they asked me and Chad Riley to come back and play, of course we said yes!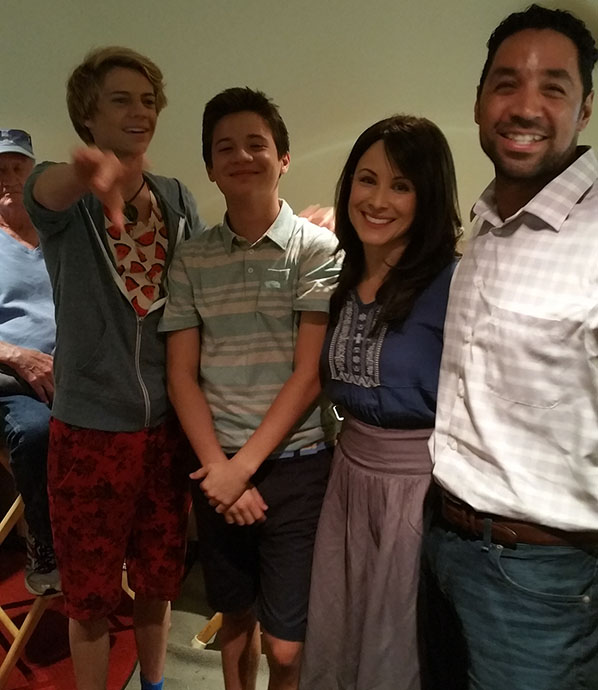 This time around our son Manny is forced to let the cat out of the bag with his folks…but that is not the only Kat coming back. Watch for villain extraordinaire (and one of my favorite people), Kirsten Robek, who joined the show as the brilliantly cast Mrs. Dingle!
Rufus 2 airs on January 16th, 2017 on Nickelodeon!
Enjoy my friends!